Attorney Randall Kinnard has spent his career fighting for the rights of injured victims, but his experience with fighting didn't start in the courtroom.
In his feature as the Attorney of the Month in Attorney at Law Magazine, Kinnard discussed his time serving in the 173rd Airborne Brigade during the Vietnam War where he was awarded the Vietnamese Cross of Gal­lantry, Purple Heart, Bronze Star for Valor and the Air Medal for his service during his two combat tours.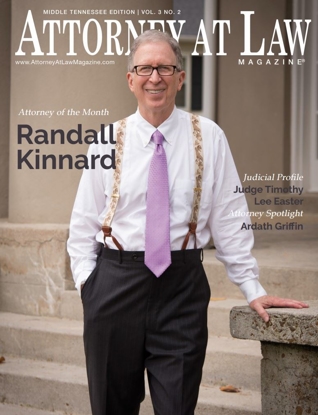 He went on to discuss his change in careers, and reminisced about one of the trials he is most proud of from early on in his legal career.
"There is a case that I'm extremely proud of, involving a man named George Brown in Lewisburg, Tennessee," said Kinnard. "It's been about 30 years since I tried that case, but it was very significant – and not for the money."
You can read the entire piece here (PDF). If you are looking to hire an experienced and passionate attorney, our team here at Kinnard Law is ready and waiting to provide you with the legal assistance you need. Send us your information through our online form, or give us a call at (615) 933-2893 to tell us more about your case today.
Related Posts: